The World Show January 2013
by Ghalib Al-Nasser

A large number of our British fanciers descended on Hasselt in Belgium to attend the 61st World Show organised by the Belgian Federation on behalf of the legislative World organisation Confederation Ornithologique Mondiale (COM) which was formed in 1952. The northern hemisphere show is hosted each year in a different country in Europe and this year's show was hosted by COM Belgium. There are 40 countries affiliated to COM stretching as far as South Korea in the east to Chile in the west. The southern hemisphere show is usually held during July/August in South America.
COM structure has two executive committees each consisting of seven members; the COM Board of Directors and the judges' committee called the Ordre Mondial Des Juges OMJ. Each committee has its own president, vice president, secretary and members of the board. The affiliated countries are divided into two groups A & B depending on the size of their show team at the World Show and the number of OMJ judges that they have. Our country is in the group B.
It is hard to describe the atmosphere at this event and fanciers who used to attend the National Exhibition of Cage & Aviary Birds of yester years will appreciate the friendship and comradeship when a huge gathering of fanciers takes place. Considering that on this occasion the gathering of fanciers is from so many countries speaking so many different languages.
| | |
| --- | --- |
| | On the Saturday evening is the Gala Dinner and the medal presentation with over 500 fanciers and partners attending the evening. This is unique to COM as fanciers attending from each country are called to the stage to be presented with their national flag while their national anthem is being played. This year we had about 20 British fanciers attending and we all went up to the stage. It is always so wonderful to be part of the family of nations sitting together and enjoying each other's company. The speaker also announced the number of medals each country has won and it was announced that we, COM-UK, had won 9 medals consisting of 4 gold, 2 silver and 3 bronze medals, the same total number as last year. It is only natural that the host country tends to do well as Belgium had the largest team and of course the largest number of medals. |
This year's show had 82 judges invited from 12 countries all from Europe but on this occasion there were no judges from the United Kingdom.

Much praise and sincere thanks must go to the two conveyors of our British team, Richard Lumley (COM-UK president) & Gary Mann, who spent a considerable amount of hours in taking the entry and then transferring the team to that country and bringing them back safely. Although this year's journey was much less in distance than last year's journey to Almeria, southern Spain nevertheless a lot of effort goes into that work; so our sincere thanks go to them for this tiring and thankless task.
| | |
| --- | --- |
| | This year's show received an entry of 23,587 from 2692 exhibitors coming from 21 countries. It is mind boggling indeed. Our COM-UK team had an increase in entry from last year with 170 birds, including the team from Gibraltar, from 34 exhibitors which was up 5 from last year with 4 new exhibitors. |
| | |
| --- | --- |
| Throughout the opening time we manned our COM-UK stand supplying refreshments and nibbles to the thousands of fanciers who pass our stand, and also looking at the wonderful birds and the various mutations that you normally do not see at our shows. It was, as usual, a great time meeting fanciers from our country as well as other countries making new friendships with so many judges, fanciers and workers as well as renewing old friendships. | |
| | |
| --- | --- |
| Brian Hogg with his gold medal for Lancashire Coppy canary | Stan Bolton with his bronze medal for Blue Lizard canary |
Brian Hogg won a gold medal with a Lancashire Coppy canary and he said, "I am very proud to be a winner of a gold medal at Hasselt with 94 points. It is 5 years since last shown at Hasselt winning a gold in 2008. The World Show is a wonderful event to express the quality of your birds. My stud took 30+ years from scratch to reach this high level with the Lancashire".
Stan Bolton won a bronze medal with a Blue Lizard canary and he said, "after 45 years being really anti Blue Lizard, I never thought that when deciding to take them on I would win a medal at the World Show after 2 years breeding them".
Ghalib Al-Nasser, secretary & publicity officer of COM-UK, had this to say, "I have visited many World shows in the past, initially with Foxton Tours and now I go with my friend Ron Pearce. My dream has been to win a medal at this event but this year has exceeded all expectation winning 2 gold medals (light green & lutino) and 1 silver medal (crest). This is only my second time showing and last year I judged the show so I am over the moon".
| | |
| --- | --- |
| Medal winners Stan Bolton, Richard Lumley (COM-UK President), Brian Hogg & Ghalib Al-Nasser at COM-UK stand | Rob & Tina Bunting with his silver medal for Gold Lizard canary |
Chris Smith, vice president of COM-UK and chairman of the NCA, has attended many World shows in the past but it was his first time exhibiting. He said "From my perspective it was another excellent show, over 23,000 exhibits, with birds of exceptional quality on display. Very happy with an increase in the number of exhibitors (34) and birds (170) from the UK team, although relatively small in numbers when compared to other countries and we brought home 9 medals. Heartiest congratulations are due to Ghalib Al Nasser, 2 golds and a silver and to Brian Hogg and Bernard Howlett for picking up a gold each. I am already looking forward to Bari, Italy in January 2014".
Bernard Howlett won a gold with a Phaeo Green Finch which was a departure from his usual wins in the Thrushes.
| | |
| --- | --- |
| Ghalib Al-Nasser with his gold medal for Best Lutino budgerigar | Roy Aplin won a bronze with his cinnamon grey green cock budgerigar |
Rob Bunting exhibited a Gold Lizard canary to win a silver medal, Rob commented, "In 20 years of keeping lizard canaries i have had a reasonable amount of show success in the UK but nothing that could compete with the elation I felt in winning a world championship silver medal. I can't help smiling and feeling good every time i think or talk about this achivement. I would recommend other exhibiters to give it a go and show in Europe. COM UK do a great job in arranging everything, transporting the birds and most importantly looking after the birds while they are away like they would their own." Roy Aplin won a bronze with his cinnamon grey green cock budgerigar. Jeff White, first time exhibitor, won a bronze with a team/stam of White Irish Fancy canary.
Our congratulations are extended to Simon Tammam, COM-UK vice president, who was presented with his Gold Judges' badge for being a COM-OMJ judge for 15 years at the OMJ Congress.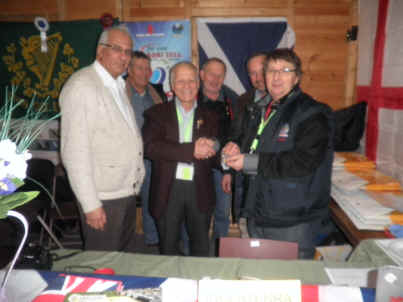 Simon Tammam receiving his OMJ Gold Judge's Medal
from Richard Lumley (COM-UK President) with Ghalib Al-Nasser,
Brian Hogg, William McKay & Gary Mann looking

Gary Mann & Richard Lumley boxing the British team
ready for the return journey home


Ghalib Al-Nasser (COM-UK secretary) collecting part of the
team for boxing up at the end of the show
Those who attended this event are already planning their trip to next year's World Show in Bari, southern Italy so my appeal is for more exhibitors and more birds for next year's event please.