The World Show January 2015
Rosmalen, Holland
by Ghalib Al-Nasser
This year the 63rd World Show organised by the Dutch Federation on behalf of the World organisation Confederation Ornithologique Mondiale (COM, formed in 1952) was much nearer to our shores in Rosmalen, Holland. However, our COM-UK team had to be staged at the show by Thursday ready for judging from Saturday to Monday; then the show opened to the public the following Thursday to Sunday. Our conveyors Chris Smith & Richard Lumley who took the team were very pleased with the overall team results.

British fanciers at the Gala Dinner at the National Anthem time
There are 44 countries affiliated to COM stretching as far as South Korea in the east to Chile in the west. The southern hemisphere World Show is usually held during July/August in South America while the northern hemisphere show is usually held during January in Europe.

Team UK had an increase in entry to 215 from 35 exhibitors and also an increase in medals won to 14; 10 gold & 4 silver medals in comparison to 11 last year. Unfortunately only Roy Aplin & Ghalib Al-Nasser entered budgies for Team UK. Between those two fanciers they won 8 medals and that is indeed very refreshing demonstrating the quality of our British budgerigars since they were exhibited at the World show since 2011.

Despite the length of time the birds are away (usually 2 weeks from the time they leave the exhibitors' home till their return) they are well looked after by being fed and watered twice a day during their presence at the show. But it is all about the atmosphere at the show and the camaraderie between the fanciers who are attending from all over the world and the friendship is next to none. Each country is supplied with its own stand to decorate as it wishes and it is the focal point for those fanciers from that country to meet. The Gala Dinner on the Saturday evening, attended by nearly 500 fanciers and partners, is for the medal announcements. Going to the stage with the national flag while the national anthem is played and all the fanciers present standing in support is just a great feeling as 16 of the British fanciers were on the stage singing our national anthem. It is always wonderful to be part of the family of nations. As always, the host nation will have the lion's share in both entry and medals, and Holland had 1068 exhibitors and won a total of 1089 medals.

This year's show had 100 judges invited from 12 countries all from Europe but none from the U.K. The show received an entry of 22,248 from 2766 exhibitors coming from 23 countries. It is mind boggling indeed. Our COM-UK team had a further increase in entry from last year with 215 birds, including the team from Gibraltar, from 35 exhibitors. The budgerigar entry at the show was 182 with a further 284 entry in the Budgerigar of Colour section. Both entries were down from last year and that could be attributed to the problem of the Bird Flu in Holland a month earlier. Our Team UK share of that was only 12 budgies this year from Roy Aplin and Ghalib Al-Nasser.


The show operates on the 2 year owner bred breeder classes with one status of exhibitor. There are 63 classes for the budgerigars in every colour (cocks & hens are in one class) and the same number of classes for the teams (Stam). It was pleasing to learn that Roy Aplin had won a gold medal for his cinnamon grey green cock as a gold medal had eluded him since

2011 as he had won silver and bronze medals before but not gold so he was very happy about his win.

Other medal winners from COM-UK team were Hue Evans (2 gold), Bernard Howlett (1 gold), Stan Bolton (1 gold), Ken Grigg (1 gold) and Brian Hogg (1 silver).

The medals are like the Olympics where the winner gets the gold, the second gets the silver and the third gets the bronze. The show is judged on the points system and the bird must achieve over 90 points to be eligible for winning a medal. For example if the bird wins 94 points (the highest points a bird can achieve) then it will win the gold, the second can get 93 or 92 points so it will win the silver and the third can get 91 or 90 points so it will win the bronze. If the winner of a class win 90 points then the bird will win the gold medal but as the second bird in the class win 89 or 88 points then there will be no medals for them.

Unfortunately we can never host a World Show in the U.K. because we are controlled by government law of the 72 hour maximum rule that birds are allowed to be in show cages.

COM-UK extend their warmest congratulations to Graham Lee who sat the COM-OMJ judging test at the World Show and passed in the F1 & F2 sections (Foreign Bird section) and all that is left for COM-UK is to have a judge in the British/native Bird section.



Roy Aplin
Chris Smith, COM-UK President and a conveyor of the team this year had this to say "I am very pleased with the increase in the number of our entry, exhibitors as well as medals. We had 6 new exhibitors showing this year and this is a positive way forward. My warm congratulation to all medal winners; 14 this year which is 3 more than last year. Special congratulations to Ghalib for his 7 medals & Roy Aplin with 1 gold with budgerigars, 3 medals with Lizard canaries for Stan Bolton & Huw Evans and 1 gold for Ken Grigg; the sole exhibit with a Canary x Bullfinch. It has been tiring but most enjoyable to work at the show for 10 days but I will be looking forward to some leisure time next week". Chris was pleased with his results particularly with 2 birds that got 91 points each but just missed out on the medals; self green Fife Fancy cock and self green Hoso hen.
Richard Lumley, our chief conveyor and COM-UK Vice President, was pleased with the increase in exhibitors and for Ken Grigg winning a gold medal. He said that those fanciers who looked at our team of Lizard canaries said that ours were the best. Richard entered 4 Gloster canaries and improved on his points from last year as did many of our exhibitors. The transportation of the birds went well.
Brian Hogg, COM-UK Vice President, won a silver medal with a team of Lancashire canaries and thought that it was a first for our team. He congratulated Richard Lumley & Chris Smith for giving up all their time for the exhibitors at this show and also to all other conveyors and stewards who give so much time for such an event.
Simon Tammam, COM-UK Secretary and show coordinator, commented on how well the show run and was very pleased with our team results. Most exhibitors got 90 & 91 points just missing out on the bronze medals. We have very good quality birds that we hope to do better next year. He felt that this was the best entry & medals for COM-UK and our efforts are improving every year. He was also pleased with his results obtaining 90 & 91 points with his Fiorino and 90 points with his Borders


Ghalib Al-Nasser

Ghalib Al-Nasser, COM-UK Publicity Officer, was over the moon to learn that his team of 8 budgerigars had won 7 out of the 14 medals for Team UK with 4 gold medals in the opaline grey, yellow-wing, whitewing & crest and 3 silver medals in the light green, skyblue & grey classes. However, he stressed that his wins are shared with his wife and exhibition partner Janice but under COM rules partnerships are not permitted.

Huw Evans entered four birds and won 2 gold medals with a non cap Gold Lizard Canary hen and a clear cap Silver Lizard Canary cock. He was over whelmed with his wins and said that as far as he was aware, this is the first time a cock Lizard canary has won a gold medal at the World Show, because normally the hens have far superior rowing (breast markings). The World Show has been my target all year, but I was realistic about my chances because I knew the continental breeders would be out in force. I entered four birds, so to win a medal of any colour, let alone two golds was a shock - a pleasant one!
I've worked hard for several years to get to this standard, but my success would not have been possible without COM-UK. Richard Lumley and Chris Smith transported the birds to Holland in foul weather conditions, and looked after them for two weeks. My birds all came back in excellent condition. British fanciers are very lucky to have such a pro-active organisation, run by dedicated people, to help them make their dreams come true.
Stan Bolton won a gold medal again with his broken cap Blue Lizard canary hen and was very pleased to win again with the same variety as last year. He said that it pleased him more to see Huw Evans also win two gold medals with his Lizards which meant that all 3 classes for Lizards were won by UK fanciers. This would only be pipe dream a few years ago. He thought that the organisers have done a great job in putting the show on after all the Bird Flu problems in Holland. He also said that without the help and assistance of his wife Pornprapa, who also showed for the first time, he would not have been able to do what he does at these shows.


Bernard Howlett with his gold medal rosette
and his new book (The Blackbird Man)

Brian Hogg with one of his team
birds that won him the silver medal

Stan Bolton with his wife Pornprapa
and his gold medal winner
Gary Mann, our conveyor for the past 4 years, had one year rest due to work commitments, is hoping to be back in the saddle and ready for Portugal next year. He showed 4 Fife canaries and his team is slowly progressing.
Dave Allen was very pleased with the wins that Team UK did with the Lizards winning 3 gold medals. He benched 5 Lizards (3 Blues & 2 Normals) and was pleased with his results and the medals that Huw Evans & Stan Bolton won in this section.
Geoff White showed a team of Irish fancy and just missed out on a bronze medal. He also benched 4 singles and was pleased with his results and hoped to do better next year.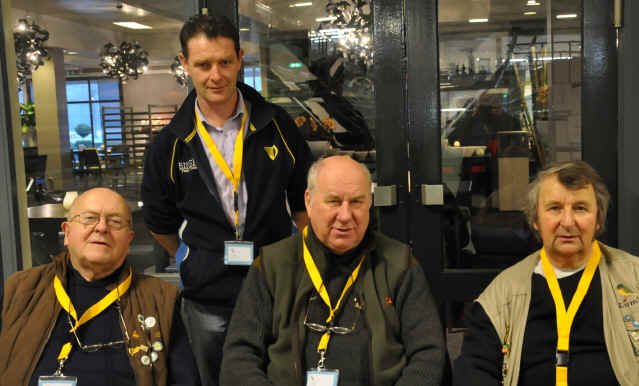 COM-Eire & COM-UK conveyors (l o r) Edward Darcy, Peter Sherlock, Chris Smith & Richard Lumley
Bernard Howlett, when collecting his team after being away for 2 weeks, said that the last two years have been difficult for him as he has not bred many good birds but this year he managed to get a good team to support Team UK and lucky to win a gold medal with his Normal Song Thrush hen this year as he had shown her last year but had not won on that occasion.
Grant Findlay, Budgerigar Society Administrator, who with Ghalib & Ron Pearce visited the show for the weekend had this to say "wonderful experience to attend the World Show and amazed at the number of wonderful trade stands at the event. All praise to the organisers for staging such a vast event like this."
Ron Pearce, a well known budgerigar fancier who has been coming to this event for so many years, said that he was amazed by the quality of the exhibits in all varieties. The catering arrangements and food for the Gala Dinner were good but the atmosphere was just brilliant.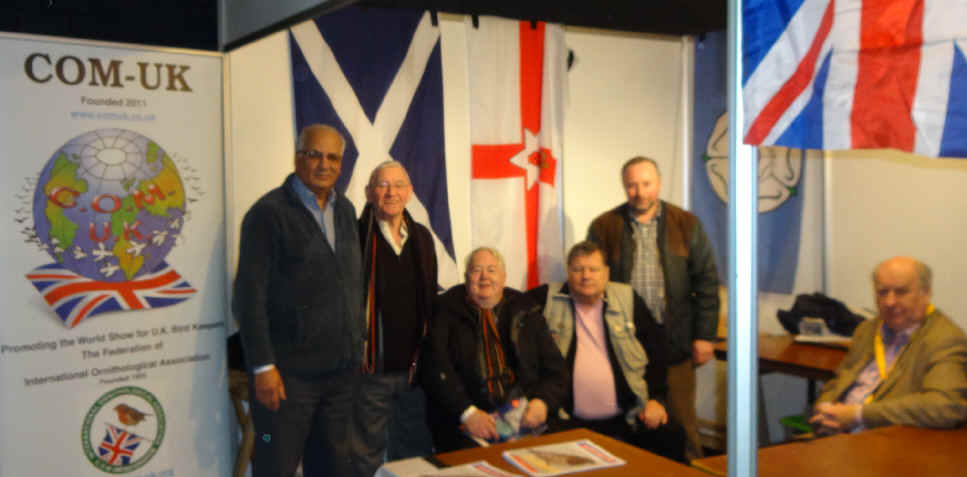 British fanciers at the COM-UK stand
Eric Peake, a well renowned international artist and Budgerigar Society Vice President, said that the event was well organised with outstandingly displayed. One thing that stood out for him was the condition of the birds considering the length of time that the birds had spent in cages by the time he viewed them some 10-12 days after they have been caged by their owners for the show. The organisers and staff were very helpful with information.
COM-UK congratulations are extended to all exhibitors from the UK for participating at this unique event and those who attended this event are already planning their trip to next year's World Show in Matosinhos (near Porto), Portugal from 21st to 24th January 2016 so our appeal is for more exhibitors and more birds for next year's event please. For more information and photos about the show visit www.comuk.co.uk and www.mondialcom2015.com