The World Show January 2016
MATOSINHOS - PORTUGAL
by Ghalib Al-Nasser
A large number of our British fanciers descended in late January on Matosinhos near Porto in Portugal to attend the 64th World Show organised by the Portuguese Federation on behalf of the legislative World organisation Confederation Ornithologique Mondiale (COM) which was formed in 1952. The northern hemisphere show is hosted each year in a different country in Europe and this year's show was hosted by COM Portugal. There are 44 countries affiliated to COM stretching as far as South Korea in the east to Chile in the west. The southern hemisphere show is usually held during July/August in South America.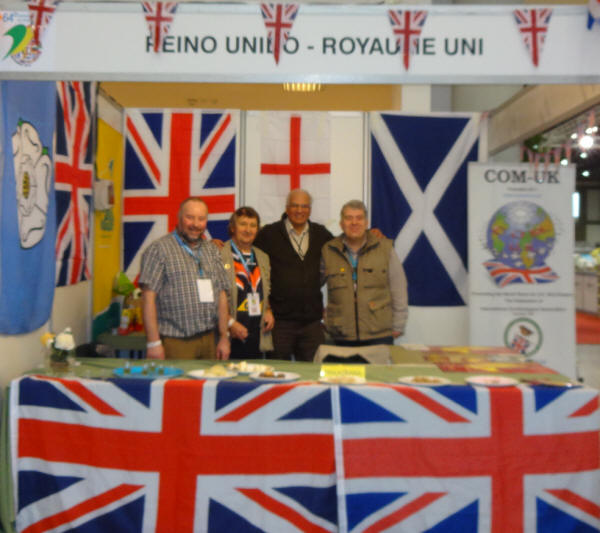 Gary Mann, Richard Lumley, Ghalib Al-Nasser & Carlos Ramoa (the new
COM President)
COM structure has two executive committees each consisting of seven members; the COM Board of Directors and the judges' committee called the Ordre Mondial Des Juges OMJ. Each committee has its own president, vice president, secretary and members of the board. The affiliated countries are divided into two groups A & B depending on the size of their show team at the World Show and the number of OMJ judges that they have. Our country is sadly in the B group.
It is hard to describe the atmosphere at this event and fanciers who used to attend the National Exhibition of Cage & Aviary Birds of yesteryear will appreciate the friendship and comradeship when a huge gathering of fanciers takes place. Considering that on this occasion the gathering of fanciers is from so many countries speaking so many different languages.

Team COM-UK at the national anthem
On the Saturday evening is the Gala Dinner and the flag and medal presentation with over 400 fanciers and partners attending the evening. This is unique to COM as fanciers attending from each country are called to the stage to be presented with their national flag while their national anthem is being played. This year we had about 15 British fanciers attending and we all went up to the stage to sing God Save the Queen while our national anthem was playing. It is always so wonderful to be part of the family of nations sitting together and enjoying each other's company.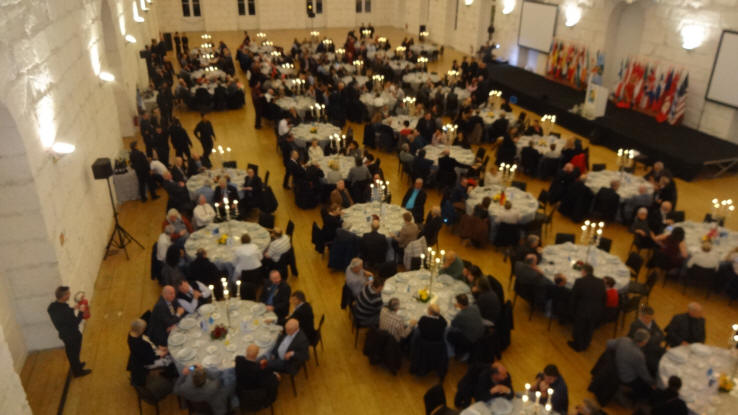 Gala Dinner with our 2 tables at the bottom left hand corner first row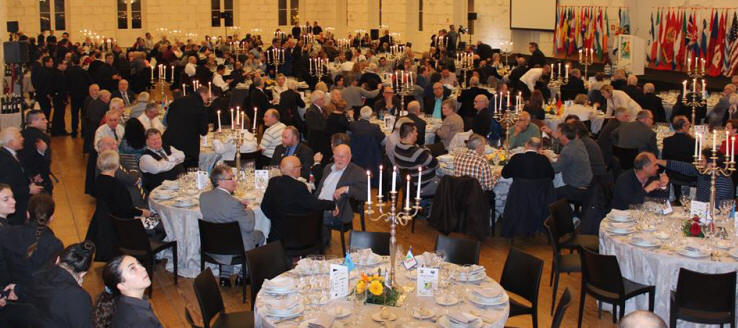 Our Table at the Gala Dinner
Our conveyors Gary Mann & Richard Lumley together with the Irish conveyor Peter Sherlock and our COM-UK secretary Simon Tammam took our team on Wednesday crossing from Portsmouth to Caen in France then driving to the show hall in Portugal to stage the team by Friday for judging to commence by Monday. They did great job in bring Team COM-UK back safely with more medals than in previous years. Our sincere thanks and gratitude are extended to them for a grand job well done. Our stand was the centre point of gathering for all the British fanciers who attended the show.
Team COM-UK had a slight drop in entry to 186 from 33 exhibitors with Spain having the highest entry in the show with 5107 from 597 followed by the host country Portugal with 4297 from 546 exhibitors. However, our delight was in gaining the most medals this year than previous years since COM-UK was formed in 2011 representing the interests of the IOA and NCA and their affiliated societies. On this occasion we won 22 medals made up of 8 golds, 7 silvers and 7 bronze medals. It was a great achievement and hope that we can better it in the future if British fanciers give us their backing.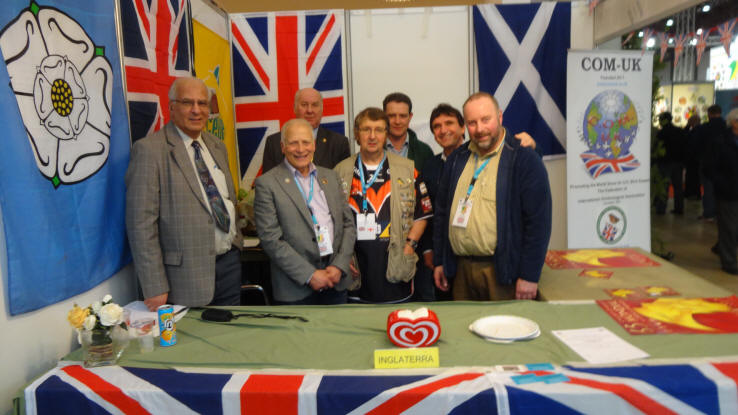 More officials at the COM-UK stand (Ghalib, Simon Tammam, Chris
Smith, Richard Lumley, Peter Sherlock, new COM Vice President & Gary Mann)
Despite the length of time the birds are away (usually 2 weeks from the time they leave the exhibitors' home till their return) they are well looked after by being fed and watered daily during their presence at the show. But it is all about the atmosphere at the show and the camaraderie between the fanciers who are attending from all over the world and the friendship is next to none. Each country is supplied with its own stand to decorate as it wishes and it is the focal point for those fanciers from that country to meet.
This year's show had 82 judges invited from 20 countries from Europe and South America and on this occasion we had our own judge from the U.K. Brian Hogg judging as well. The show received an entry of 21,883 from 2739 exhibitors coming from 23 countries. It is mind boggling indeed. Our COM-UK team had a slight drop in entry from last year with 186 birds, 33 exhibitors. The budgerigar entry at the show was 212 with a further 390 entry in the Colour Budgerigar section. Our Team share of the budgies was the same as last year with only 12 budgies from Roy Aplin and Ghalib Al-Nasser.
The show operates on the 2 year owner bred breeder classes with one status of exhibitor for most varieties but for the canary section it is only 1 year rung birds can be shown.
Our medal winners from COM-UK team were Bernard Howlett (2 gold, 1 bronze), Ken Grigg (1 bronze), Dave Tanner (1 bronze), Geoff White (3 gold, 4 silver), Ghalib Al-Nasser (1 gold, 1 bronze), Maurice O'Connor (1 gold, 1 silver, 3 bronze), Neil Prentice (1 gold) and Simon Tammam (2 silver).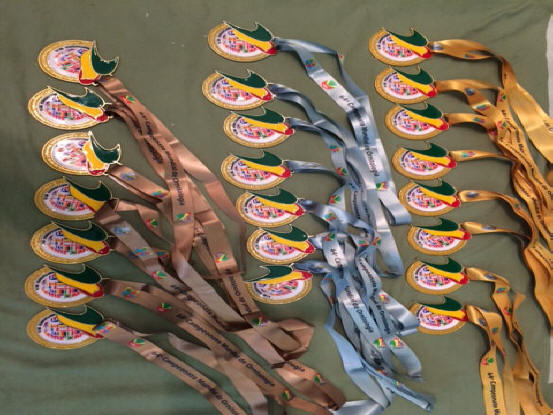 COM-UK 22 Medals
The medals are like the Olympics where the winner gets the gold, the second gets the silver and the third gets the bronze. The show is judged on the points system and the bird must achieve over 90 points to be eligible for winning a medal. For example if the bird wins 94 points (the highest points a bird can achieve) then it will win the gold, the second can get 93 or 92 points so it will win the silver and the third can get 91 or 90 points so it will win the bronze. If the class winner wins 90 points then the bird will win the gold medal but as the second bird in the class win 89 or 88 points then there will be no medals for them. If the class winner gains 89 points only then there will be no medals allocated for that class.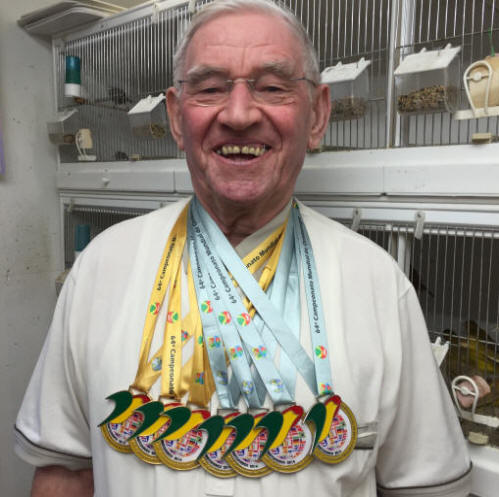 Geoff White with his horde of 3 Gold & 4 Silver Medals
Unfortunately we can never host a World Show in the U.K. because we are controlled by government law of the 72 hour maximum rule that birds are allowed to be in show cages.
Chris Smith, COM-UK President had this to say "The best ever show that I have attended, with only "ONE POINT" off the medals for my birds. Superb result for COM-UK team with 22 medals, a record year, my congratulations to all exhibitors. Special thanks go to Gary and Richard for all their hard work and dedication in conveying the birds safely".
Richard Lumley, our chief conveyor and COM-UK Vice President, said that he trip was very good and everything went like clockwork. After arriving at Caen in France we drove for 4 hours then stopped for 2 hours to feed and water every bird and check all the lights in teh cages were working then continued with the drive to north Spain then rest and feed before the final leg to Porto. We arrived at 2.00pm on Friday then all the birds were caged in in their show cages and entered into the show hall.
Gary Mann was happy to be back as a conveyor after one year rest and to be among his friends of conveyors from the 23 participating countries. He was happy with part of the journey done by sea reducing the long driving stress.
| | |
| --- | --- |
| Simon Tammam with his two silver medal winners | Simon Tammam, COM-UK Secretary and show coordinator, was very pleased with his two silver medals in the white and yellow Fiorino Frills as it was about 6 years ago when he won a gold medal. He felt that it was a good show with good judging resulting in our team doing very well with winning 22 medals; the best ever for COM-UK since 2011. He hopes that exhibitors will come back and show again next year and will also encourage more new exhibitors to come forward with their birds. |
| | |
| --- | --- |
| Ghalib Al-Nasser, COM-UK Publicity Officer, was very delighted with the overall team win and hope that this is a new beginning for Team COM-UK. He was still very pleased to be among the winners as he has won gold medals in the past 4 shows. Ghalib shares his wins with his wife and exhibition partner Janice but under COM rules partnerships are not permitted. | Ghalib with his gold medal winner (Albino cock) |
| | |
| --- | --- |
| Dave Tanner | Dave Tanner showing and attending for the first time was thrilled with his bronze medal with a clear buff hen that gained 93 points in a class of 51 birds. He referred to himself as a "World Show Virgin" and is looking forward to exhibiting again next year. |
Dave Allen, secretary of the Lizard canary Association, said that he attended every show since 2008 but was disappointed that he missed out on sending a team as the birds were in a moult. He gave praise to the Portuguese committee for organising the show as it is well laid out with a large parrot aviary at the entrance which was a good attraction to the visiting public. Dave also referred to the overall quality of the Lizards which was excellent.
Neville Jones, a second time exhibitor, gained 88 and 89 points with his common crossbills. All crossbills are in the same class with 2 bared crossbill & parrot crossbill. For him it was fantastic all round.
Graham Bradbrook entered two fife cinnamons and gained 87 & 90 points and just missed out on a bronze medal with 91 points. He comes with a team of fanciers from his local clubs and has visited the world show since 2009 and has enjoyed all of them due to the commoradership between the fanciers and to see U.K. birds competing against birds from other countries. He wishes that more U.K. exhibitors will participate at the World Show.
Peter Sherlock, the Irish conveyor and good friend met at Gary Mann's place in Dorset and set of the long journey together and this way the travelling cost was shared by both countries. He said that the birds travelled well and exhibitors complemented on how good the birds looked after their long journey. He felt that the organisation was very good with the right people in the right jobs. His country won 9 medals with 4 gold, 2 silver and 3 bronze.
| | |
| --- | --- |
| Willie McKay | Willie McKay, a COM-UK committee member from Scotland, is a regular exhibitor since 2003 when he won a gold medal in the Fife Fancy. He had won silver and bronze in the past in the stam (team) class entered 12 birds and one of his birds gained a 90 point in a class of 51 birds. He enjoyed the show which to him was fantastic and much better than anything in the U.K. with a high standard as per every year. |
Ron Pearce, a champion budgerigar breeder and judge, has visited the World Show since the early 1990s with Foxton Tours had this to say "I think the venue at Porto is one of the nicest venues of the world Shows with good lighting that lend itself very nicely to this type of exhibition. The Portuguese people are always very nice and friendly with wonderful comradeship. I can only encourage fanciers from the U.K. to come to the World Show and experience for themselves and also to see some of the best birds from the World. Each year I always manage to find a new mutation which is always very exciting.
| | |
| --- | --- |
| Bernard Howlett with his winning medals and rosettes | Bernard Howlett is a regular winner with his British birds and this year he won 2 gold medals with cinnamon blackbird hen and normal black bird hen as well as a bronze with a normal blackbird hen. He is very thrilled to be the leading British medal winner |
| | |
| --- | --- |
| Ken Grigg was very pleased with his win at the show for the second time winning a bronze with his hybrid canary x bullfinch which won gold last year with the same bird. He said "what I like is that the judge does not you or your birds and you do not know the judge so it is a fair playing field. He has not attended a show since 1993 when he judged it in Breda, Holland. | Ken Grigg with his bronze medal winner |
| | |
| --- | --- |
| Neil Prentice with a bird from his gold medal stam | Neil Prentice entered 9 birds at the show for the first time and to his surprise and delight won a gold medal with a stam of cinnamon cobalt redpolls. He was thrilled to his win and looking forward to next year. His first venture showing overseas was in 2014 in Belgium showing at the Goudian Ring Show and won a gold medal with a current year bred siskin hen. |
COM-UK congratulations are extended to all exhibitors from the UK for participating at this unique event and those who attended this event are already planning their trip to next year's World Show in Almeria, Spain from 20th to 22nd January 2017 so our usual appeal is for more exhibitors and more birds for next year's event please. For more information and photos about the show visit www.comuk.co.uk