The World Show January 2017
by Ghalib Al-Nasser, COM-UK Publicity Officer
Once again many of our British fanciers descended in late January on Almeria in southern Spain to attend the 65th World Show organised by the Spanish Federation on behalf of the legislative World organisation Confederation Ornithologique Mondiale (COM) which was formed in 1952.
COM structure has two executive committees each consisting of seven members; the COM Board of Directors and the judges' committee called the Ordre Mondial Des Juges OMJ. Each committee has its own president, vice president, secretary and members of the board. The affiliated countries are divided into two groups A & B depending on the size of their show team at the World Show and the number of OMJ judges that they have. Our country is sadly in the B group.
Every year there will be some elections to both executive committees at their individual congresses (Annual General Meetings) and this year was no exception. At the COM Congress the Lebanese Ornithological Federation was welcomed as the new member to COM.
The Saturday evening is the Gala Dinner and the flag & medal presentation with over 400 fanciers and partners attending the evening. This is unique to COM as fanciers attending from each country are called to the stage to be presented with their national flag while their national anthem is being played. This year we had 13 British fanciers attending and we all went up to the stage to sing God Save the Queen while our national anthem was playing. It is always so wonderful to be part of the family of nations sitting together and enjoying each other's company.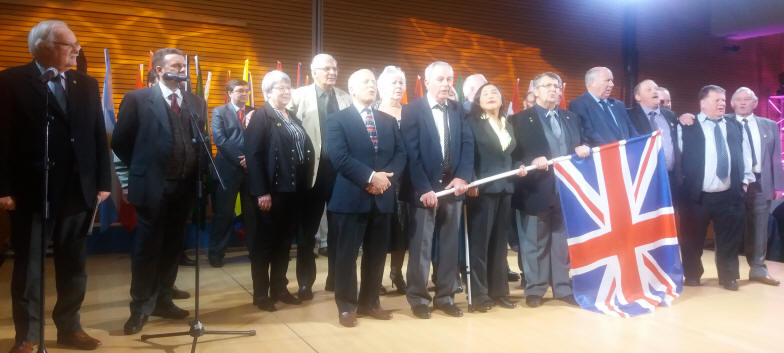 The UK Team Sing The National Anthem
If one needs to pay tribute then it will go to the conveyors from those countries who are benching birds as they will take 2 weeks of their time to drive their countries teams to the show venue and then spend every day stewarding by feeding and watering a section of the show birds that are allocated to them and do all the necessary stewarding jobs. It is a thankless task but they do it for the love of the hobby and we need to pay great gratitude to them for carrying this task on our behalf.
Our conveyors this year were Richard Lumley, our COM-UK vice president, together with the Irish conveyor Peter Sherlock took our team on Wednesday crossing from Portsmouth to Caen in France then driving to the show hall in Spain of 1380 km to stage the two show teams by Friday for judging to commence by Monday. They were joined then by our second conveyor our COM-UK president Chris Smith who flew to Almeria. Simon Tammam, COM-UK Secretary, also joined the team of conveyors. As always they do a great job in taking the teams and bring them back safely with more medals than in previous years. Our sincere thanks and gratitude are extended to them for a grand job well done. Our stand was the centre point of gathering for all the British fanciers who attended the show.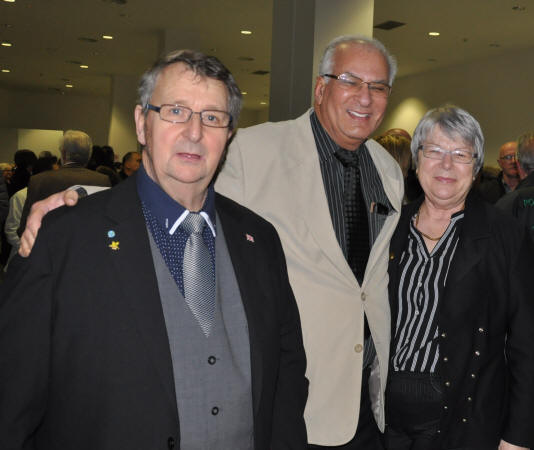 Richard Lumley, Ghalib & Marie-Claire Tarnus, Secretary of COM
The show attracted a total entry of 25,953 from 3,124 exhibitors representing 22 countries. COM-UK had an increase in entry from last year's team with 229 birds (186 in 2016) from 39 exhibitors (33 in 2016) and came back home with 27 medals (22 in 2016) making it a record of medals won since COM-UK was formed in 2011 with 14 golds, 8 silvers and 5 bronze medals. It was indeed a great achievement for our team and hope that we can better it in the future if British fanciers give us their support and backing.
Fanciers always question the length of time the birds are away from their premises and in show cages but despite that time the birds are away (usually 2 weeks from the time they leave the exhibitors' home till their return) they are well looked after by being fed and watered daily during their presence at the show and always come back healthy and eager to breed. But it is all about the atmosphere at the show and the camaraderie between the fanciers who are attending from all over the world and the friendship is next to none. Each country is supplied with its own stand to decorate as it wishes and it is the focal point for those fanciers from that country to meet.
This year's show had 118 judges invited from 17 countries from Europe, North Africa and South America but missed out on supplying a judge from COM-UK as it is not our turn to do so. The show operates on the 2 year owner bred breeder classes with one status of exhibitor for most varieties but for the canary section it is only 1 year rung birds can be shown.
Our medal winners from COM-UK team can be summarised in the table below:
| | | | | |
| --- | --- | --- | --- | --- |
| Exhibitor | Gold | Silver | Bronze | Total |
| Ghalib Al-Nasser | 4 | | 1 | 5 |
| Geoff White | 1 | 2 | 1 | 4 |
| Bernard Howlett | 3 | | | 3 |
| Saviour Camilleri | 1 | 2 | | 3 |
| Stephen Cowling | | 1 | 1 | 2 |
| Christopher Driver | 1 | 1 | | 2 |
| Mick King | 2 | | | 2 |
| Maurice O'Connor | 1 | 1 | | 2 |
| Simon Tammam | | 1 | 1 | 2 |
| Graham Bradbrook | 1 | | | 1 |
| Les Evans | | | 1 | 1 |
| Total | 14 | 8 | 5 | 27 |
The medals are like the Olympics where the winner gets the gold, the second gets the silver and the third gets the bronze. The show is judged on the points system and the bird must achieve over 90 points to be eligible for winning a medal. For example if the bird wins 95 points (the highest points a bird can achieve) then it will win the gold, the second can get 94 or 93 points so it will win the silver and the third can get 92 or 91 points so it will win the bronze. If the class winner wins 90 points then the bird will win the gold medal but as the second bird in the class win 89 or 88 points then there will be no medals for them. If the class winner gains 89 points only then there will be no medals allocated for that class as it happened with one of my birds this year.
One of the highlights for COM-UK was that Ian Wright from Stockton on Tees,

County Durham

took his judges test at the show in Section E (Posture Canary) and passed making our strength now as 11 judges on COM-OMJ Judges Panel. Ian specialises in Glosters and Crests and is a member of the IBGA and is a panel judge since 2001. He shows in partnership with his father Robert who in turn was in partnership with his father Les previously and used to show at the old National of Cage & Aviary Birds. Ian has bred Fifes since the age of 12 years and won best novice canary at 1993 National with a Buff Green Fife Fancy hen.

Ian commented that the test day was long but quite challenging and was glad that he took the test and passed. It tested his knowledge and he had to prepare a lot for it by reading the standards and rules of COM/OMJ and going to different COM shows in Europe to learn the standard and method of judging by the points system for the 24 different types of canaries that one needs to identify. Ian had to travel to many places both home and in Europe to identify the various varieties and learn about them ready for the test. Ian commented that studying for his preparation for the test made him think more about other breeds and he feel that he is more generally informed now. He encourages more British judges to consider becoming COM-OMJ judges by taking the test.


Ian Wright
| | |
| --- | --- |
| Ron Pearce, Ghalib Al-Nasser & Grant Findlay at the Gala Evening | The second highlight was that Ghalib Al-Nasser was presented with his COM-OMJ silver judge's badge for being an OMJ judge for 10 years since he passed his test in 2007 in the I-section (budgerigars). |
| | |
| --- | --- |
| The third highlight was the introduction of the London Canary Fancy on the show bench at COM as an assessment class as a new breed and our COM-UK supplied 12 birds (a stam and 8 singles) by Bernard Howlett but there is a lot of work need to be done on this variety for it to be accepted by COM mainly because too much variegation in the bird | Bernard Howlett |
Chris Smith, COM-UK President and the second conveyor had this to say "Very much enjoyed the event as a conveyor and helped in setting up the show by booking in Team COM-UK and putting labels on cages and stewarding for judges. Very pleased for Ian Wright who passed his OMJ test. The event is long and very tiring but very enjoyable and rewarding. I entered 3 Hoses, 2 Fifes and 1 Irish but disappointing in achieving only 90 points but there is always next year".
Richard Lumley, our chief hard working conveyor and COM-UK Vice President, said that this was his 8th year as a conveyor and he usually collect the team from the north and drive to Gary Mann in Dorset then with Gary's help they take the team to the vet for the health certificate and then cage them up and set for the long trip of nearly 2300 km with his Irish counterpart. He had many positive comments about the organisation and how good the Spanish team was. He was impressed with the hall and the layout and how well the lighting was with two glass walls either side of the hall. The standard of the birds was very high.
I know that I speak for all exhibitors in how grateful and thankful we all are to Richard for his effort in this long drive to the world show every year sharing the trip with Peter Sherlock, the Irish conveyor.
Gary Mann, one of our previous conveyors since 2011 and show coordinator, was happy to make the long journey to visit the show and see old friends. He was pleased to compete at the very high level and has attended more than 30 World Shows and they are going from strength to strength.
Simon Tammam, COM-UK Secretary and show coordinator had this to say "I was quite please that after a very slow start, lots of entries came in and we reach a total of 229 birds from 39 exhibitors. This was a record entry for COM UK and we are getting closer to equalling the record held by COM GB. Another record broken is the number of medals won by Team UK; 27 medals, 5 more than 2016 to include gold for colour canaries, the first for over 18 years. All in all it was a great show for Team UK, and I am proud to have been part of it, as part of the conveyors team, and as one of the medal winners, a silver (92 points) for a clear Fiorino crested hen in a class of 19 birds and a bronze (91 points) with a blue Fiorino Plainhead in a class of 24 birds, the other two Fiorino gained 89 and 90 points while my only Border entered was placed 5th with 90 points in a class of 13 birds. The venue was great, probably one of the best, with excellent lighting and lots of space.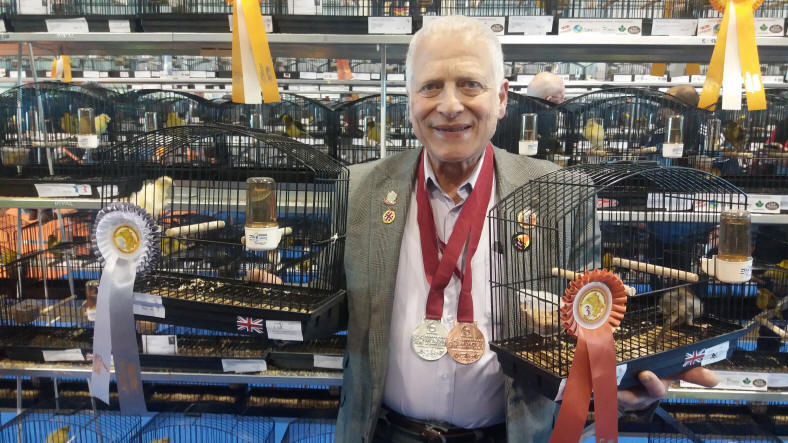 Simon Tammam
I was engaged with the presentation of the London Fancy for the first trial for acceptance to the COM, and although 4 of the 12 birds presented gained 93, 92 and 91 points, 2 gained 89 and 88 points, the rest of the birds were far below the standard ending with a negative result, I am confident that we will have a positive one next year in Italy".
Ghalib Al-Nasser, COM-UK Publicity Officer, was very delighted with the overall team win and hope that this is a new beginning for Team COM-UK. He was still very pleased to be among the winners as he has won gold medals in the past 4 shows in the budgerigar section. Ghalib shares his wins of 4 gold and 1 bronze medals with his wife and exhibition partner Janice but under COM rules partnerships are not permitted.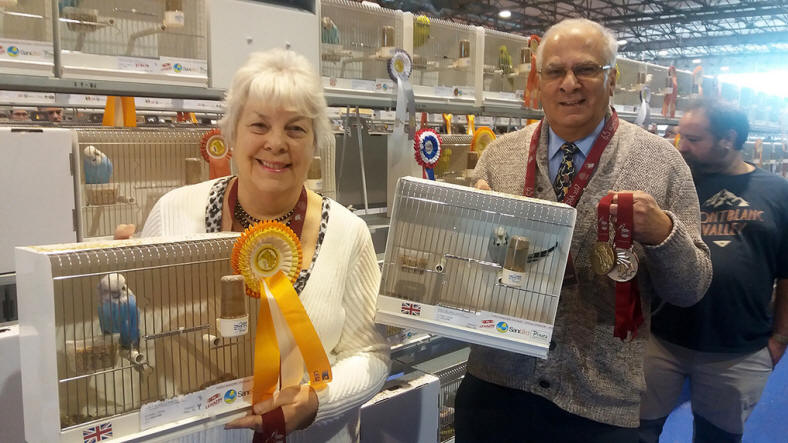 Janice & Ghalib Al-Nasser
It was Chris Driver first time showing at the World Show and he made history in winning a gold medal in the Coloured Canary section; first time in about 18 years. He was over the moon with his win and the gold medal with a 91pts- Intensive Yellow Lipochrome White Wings Cock and a silver medal with a 91pts - Intensive Yellow Ivory Lipochrome White Wings Hen. This is a great encouragement for other fanciers to show their Colour Canaries.

Chris Driver
Graham Bradbrook, a Fife canary breeder, was also very happy with gold medal that he won with a lightly variegated Yellow Fife hen. He entered 2 birds only and won gold with one. This was his 5th time showing at the World Show and the best result with a gold medal. He commented that the standard of the birds is very high and the venue was very good.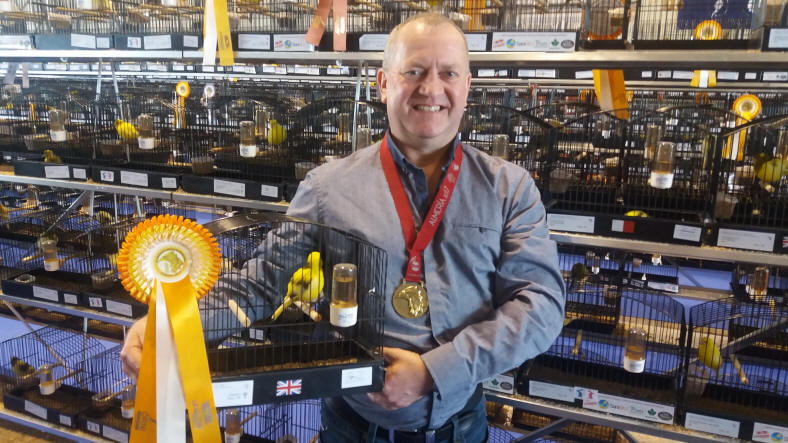 Graham Bradbrook
Geoff White was very pleased with his 4 medals of 1 gold, 2 silvers and 1 bronze medal although it did not match his wins of 3 golds and 4 silvers of last year in the Irish Fancy section. This was his 3rd World Show and it was worth the long trip down to attend He commented on how well the show was run in a great hall and wonderful atmosphere.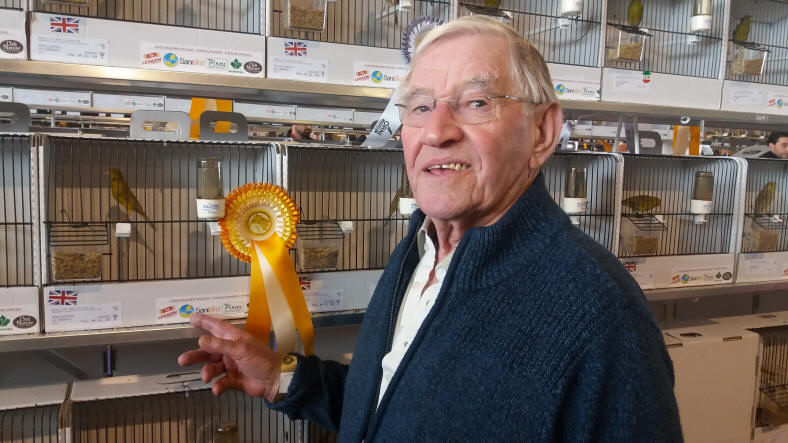 Geoff White
Alan Robinson, a COM-UK committee member, also commented on how excellent the show hall was with good quality birds that were well looked after.
Dave Allen who just missed on a bronze medal again was still very pleased with his results in the Blue Lizard section. He was very pleased to see many U.K. exhibitors at this great show.
Another exhibitor who did well was Saviour Camilleri winning 1 gold and 2 silver medal. His gold and silver medals were in the same class of Norwich Light Variegated cocks. He also obtained silver in the Stam of 4 Norwich Yellow hens. This stam obtained gold at the Gouden Ring show in Belgium in the previous month. He commented on how well the show was and the quality of birds benched. He was very pleased with his wins and this is the second time that he won a medal in the Norwich section at a World show.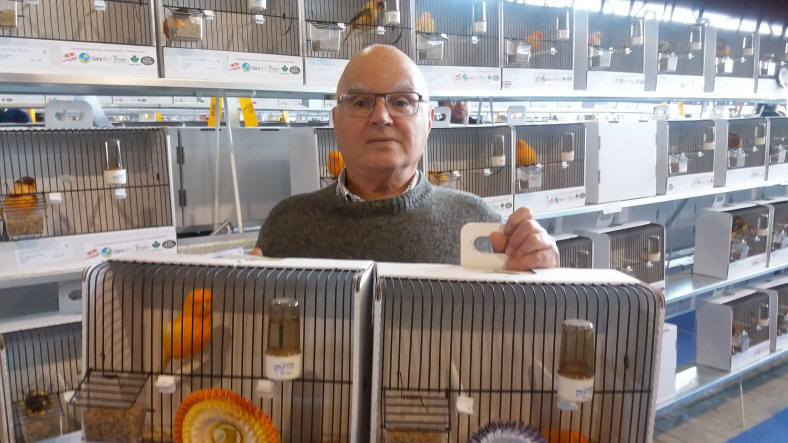 Saviour Camilleri
Bernard Howlett is always among the winners at World shows and this year his team came back with 3 gold medals. He entered 4 blackbirds and 4 Song Thrushes with and picked up golds with Cinnamon Blackbird, Normal Song Thrush and Cinnamon Song Thrush. Bernard also presented the London Canary Fancy for the first time for assessment as a new breed. He entered a stam and 8 singles but failed to be accepted on this occasion by the judges as they felt that there was too much variegation in some of the birds but a further attempt for recognition will be made next year.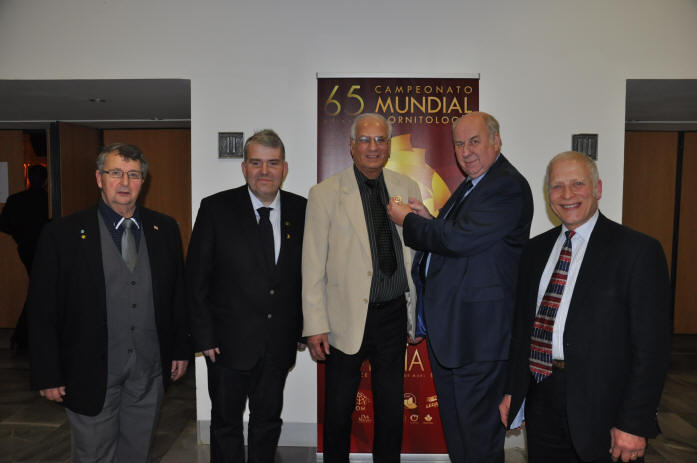 Silver Badge - R. Lumley, C. Ramoa, Ghalib, C. Smith, S. Tammam
Dave Cottrell, past President of the Budgerigar Society, attended the show with his wife Fran and it was over 20 years ago when he attended his last World Shows in Holland and France with the late photographer Dennis Avon on behalf of Cage & Aviary Birds. He commented "I was amazed at the time to see in excess of 200 Red Factor canaries in one class so made sure I visited the section in Almeria. I was very impressed in the quality of the first stam class with 130+ teams of 4 in a single class; over 520 birds; quite a sight. I have been interested in European birds for over 40 years so spent a couple of hours viewing an impressive group of quality birds; many not seen on the show bench in the UK. To see 50+ Goldfinches is indeed a rare event.
Although the next event is in Italy; which may be a bit far for many UK fanciers; advance preparations are in hand for the January 2019 event that will be held in Zutphen in Holland. This is easily accessible to UK fanciers so why not start planning now; nearly 2 years to save up for a memorable weekend viewing in excess of 20,000 quality show birds".
COM-UK extended its congratulations to all exhibitors from the UK for participating at this unique event and those who attended this event are already planning their trip to next year's World Show in Cesena, Italy from 19th to 21st January 2018 so our usual appeal is for more exhibitors and more birds for next year's event please. For more information and photos about the show visit www.comuk.co.uk